BRICKTOPIA

Barcelona, 2013



ES
Pabellón Bricktopia en la Fabrica de Creación Fabra i Coats, Barcelona

Diseño y construcción de un pabellón experimental de bóveda tabicada para el Festival Internacional de Arquitectura eme3 2013. Junto a Map13 architects.

El pabellón está situado en espacio público y alberga actividades programadas por los vecinos del barrio de Sant Andreu. Ha sido utilizado para conciertos, espectáculos de danza, actividades infantiles, proyecciones, charlas o como bar.

EN
Bricktopia Pavillion at Fabra i Coats Contemporary Arts Center, Barcelona

Design and construction of experimental tile vault pavilion for the International Architecture Festival eme3 2013. Together with Map13 architects.

The pavillion is located in public space and aims local people to program different activities below it. It has been used for concerts, dance performances, children activities, documentary projections, talks or as a bar.



Concurso: Map 13

Equipo de ejecución / Execution Team:
Map 13 [Marta Doménech + David López López + Mariana Palumbo] + Paula López Barba + Josep Brazo

Cliente / Client: International Architecture Festival eme3

Agradecimientos/ Aknowdlegments: Alejandro Caballero, Rafael Salas, Manuel de Lózar, Alfonso Godoy, Miguel Melas, Jaume Nadal, Igor Vuleta, Oriol Palou, Hugo López López, Patricia Mancas, Irene Subils, Montse Pastor, Alba Montero, Susana Oses, Eva Palaudàries, Antonella Mancas, Aleix Borrell,Guillem Galofré, Montserrat Jordi, Nuria Alvarez Coll and Miguel, Maarten Liefoghe, Lluís Enrique Monzó, Ricardo Santacruz, Claudia Manferrari, Maria Múzquiz, Inma Bernal, Guillermo M. Gómez, Izaro Ezeiza, Marta Barraca, Carlos Corral, Jefrey Lawrence, Maria Vergé, Noelia Salvador, Conxita Pladellorens y Pepe, Ramón Álvarez Roa, Jimena Campillo González, Juan Enríquez Lage

Patrocinadores / Sponsors: Constructors: Sapic + Calaf + Closa + Cots i Claret + Urcotex. / Tile materials: Bóvila artesana Durán + Ceràmiques Piera -Cement: Collet / Scaffolding: Alco -Metacrilat: Nudec -Tools: Rubí and EPSEB, Escuela Politécnica superior de Edificación de Barcelona / Materials: Sapic -Brick cleaning: mpa -Solera: Presolera / Encofrado: Alsina / Topography: GTC / Concrete:Cemex / Laser: Iaac, Institut d'Arquitectura Avançada de Catalunya / ETSAB, Escuela Técnica Superior de Arquitectura de Barcelona

Image credits: Manuel de Lózar, Paula López Barba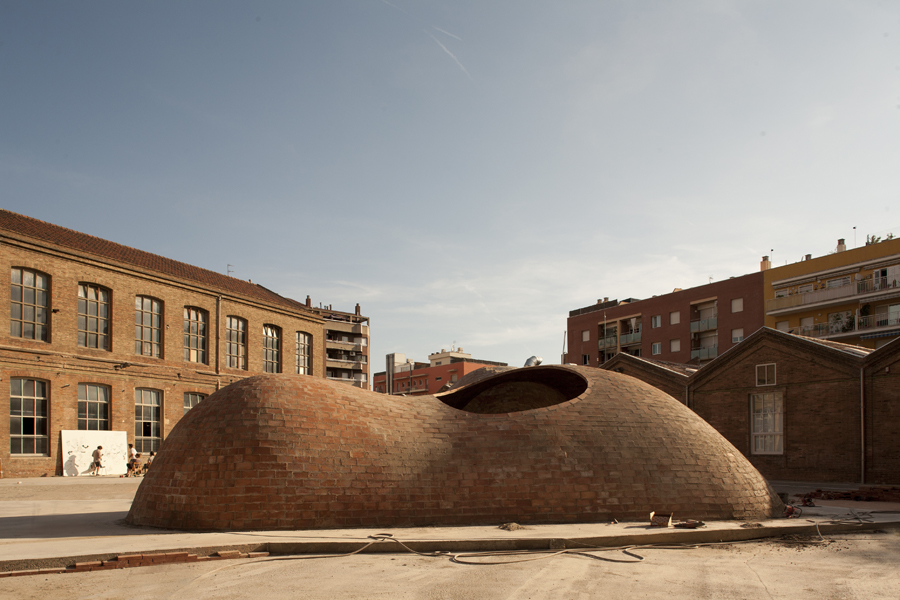 More pictures here